London, England — World oil production will start to decline within 15 years if the rate of extraction remains at current levels, potentially causing a global economic catastrophe, reports Reuters. The article cites U.S. geologist Craig Bond Hatfield of the University of Toledo, Ohio, who believes the only solution is to develop a long-term substitute for oil. Hatfield noted in the science journal Nature that world oil production has increased from 59.7 million barrels per day in 1985 to 69 million barrels per day in 1995. New discoveries of oil are not keeping pace, with consumption far outstripping potential reserves. Even if demand does not grow, Hatfield sees a production decline by the year 2036. Without alternatives, the economic impact of this permanent decline could dwarf the damage caused by oil shortages in the 1970s, which created serious inflation and a world economic slump.
COLORADO SPRINGS, Colo., May 21 /PRNewswire/ - Chevrolet's S-10 Electric Pickup will make its racing debut at one of the most spectacular motorsports events in the world, the 75th Running of the famed Pikes Peak International Hill Climb on the Fourth of July, 1997.
Three-time Baja 1000 winner (199l, '95, '96), Larry Ragland, will pilot the new S-10 Electric Pickup. His mission is to showcase the technology of this compact truck by putting the Chevrolet S-10 Electric Pickup on record as the first electric production truck to reach the top of Pikes Peak. (Editors Note: This is EV1 Technology in Action).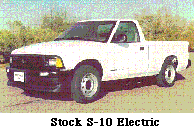 "We plan to flex the muscle and reliability of this powerful Chevy S-10 by being the first to make it to the top of the 14,110 foot summit," said Ragland, 44, of Phoenix, Ariz. "And, I'm planning to be the driver to turn this first-time attempt into an historical feat for the S-10 Electric truck."
The 1997 Electric truck looks like the familiar Chevy S-10 Pickup, but it is powered by a Delco Propulsion system 85kW AC Induction Motor and the Delco Valve Regulated Lead Acid battery pack. It features a propulsion battery thermal management system to keep the battery pack warm in cold climates and cool in hot climates. The 1,500-pound battery pack is located under the truck bed. The S-10 has two-wheel, front-wheel drive, and is capable of speeds up to 70 mph ---depending on variables such as temperature and terrain. A few minor modifications have been made to the S-10 Electric Pickup to make it race-ready for the Pikes Peak event.
"We're using a nickel metal hydride battery pack with modules to further test the technology of the truck," said Russ O'Blenes, GM Motorsports.
"And we've added a roll cage, racing seats, an auxiliary power cut-off, and after- market wheels and tires. Basically, it's still a stock production truck -- with the standard frame, body, door panels, interior, and so forth. It really looks sharp. It's red, white and blue with a 'stars and stripes' theme for the 4th of July race date."
"I'm looking forward to this new challenge," said Ragland. "The road to the top is a 156-turn, 12.42-mile groomed gravel course. All I can do is wait for the green flag to drop, and go."
Portland, Me.— A Geo Metro using a GM Ovonic NiMH battery set a world record by traveling 249 miles without recharging in the five-day "Tour de Sol" electric car race that ended on Friday May 23, in Portland, Me.
The electric car converted by Solectria Corp.used a type of battery that General Motors Corp. will use in its EV-1 electric car later this year. This new technology battery will more than double the GM car's range compared with the lead-acid batteries it uses now.
The average distance that all production entrants traveled between rechargings jumped to 168 miles from 141 last year.
Robert Stempel, a former chairman of General Motors and now the chairman of a company that built the batteries for the winning car, said he was delighted with the performances this year, the ninth time the race has been run. "This proves that technology for electric cars is rapidly improving."
"In the early days we had to worry about slowing traffic down and blocking the highways," he said. "Every day now, we admonish the drivers, please watch your speed limits."
The race, organized by the Northeast Sustainable Energy Association, of Greenfield, Mass., is run in daily stages, over public streets and highways. This year it started in Waterbury, Conn., and ran north through the hills of Connecticut and western Massachusetts into the mountains of Vermont before swinging east through New Hampshire to Maine.
Ford entered its Ecostar electric van, which covered 197 miles on a single charge, and Toyota entered an electric version of its RAV-4 sport utility vehicle, which went 116 miles.
General Motors' EV-1 is a likely candidate for mass sale with the same battery type because of the automaker's reputation and its network of dealerships.
Stempel is the chairman of Energy Conversion Devices, of Troy, Mich. A subsidiary, Ovonic Battery Company, in a joint venture with General Motors, is building the new battery packs for the automobiles.